Lately we've been asked by several of you how we can be reached.
Here's a quick reminder on where to find our contact information.
Just click on this icon on our side bar.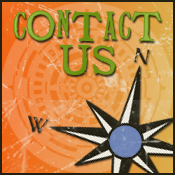 From there you will be directed to a post with all of the info. you could possibly need - phone numbers, email addresses, skype names, mailing addresses and so on.
Sorry if we didn't make it clearer to you before!!! We'd love to hear from you by any mode of communication!